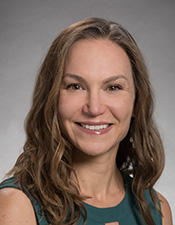 After an extensive national search, it is with great pleasure that Dana-Farber/Boston Children's Cancer and Blood Disorders Center introduces Abby R. Rosenberg, MD, MS, MA, as the new Chief of Pediatric Palliative Care at Dana-Farber Cancer Institute and Director of Palliative Care at Boston Children's Hospital. These roles require an extraordinary blending of compassion, leadership, and clinical expertise that are essential to both institutions.
In her new role, Dr. Rosenberg will oversee all of pediatric palliative care at both hospitals, including faculty, clinical staff and trainees, and provide academic leadership. She will lead the interdisciplinary Pediatric Advanced Care Team (PACT), providing comfort and quality of life to the care of children with serious illness and their families, both within the Jimmy Fund Clinic and at Boston Children's. A nationally renowned investigator in pediatric palliative care, Dr. Rosenberg will also oversee the Division's research mission, establishing a significant research hub based jointly out of Dana-Farber and Boston Children's.
Most recently, Dr. Rosenberg has been serving as Director of the Palliative Care and Resilience Lab at the Seattle Children's Research Institute, developing new ways to help children, teens, young adults, and their parents become more resilient in the face of serious health problems. She has been serving concurrently as the Director of Pediatrics at the University of Washington (UW) Cambia Palliative Care Center of Excellence and the Director of Survivorship and Outcomes Research in Pediatric Oncology at UW. She also is an Associate Professor of Pediatric Hematology/Oncology at UW.
Dr. Rosenberg's research focuses on developing programs to help patients and families with serious illness build resilience, thus alleviating suffering and improving quality of life. She is currently principal investigator of several NIH funded studies testing PRISM (Promoting Resilience in Stress Management), her novel resilience-coaching program.
Through her work as program co-director for the UW institutional research training grant program in palliative care research and lead mentor in the Palliative Care and Resilience Lab, Dr. Rosenberg has been active in training the next generation of palliative care and supportive oncology clinician-scientists at the postdoctoral and junior faculty level. Dr. Rosenberg also holds multiple national leadership positions, including the Chair of the American Society of Clinical Oncology Ethics Committee and the Co-Chair of the Scientific Program for the American Association of Hospice and Palliative Medicine.
Dr. Rosenberg has earned an extensive number of awards and honors, including the American Academy of Hospice and Palliative Medicine Early Career Investigator Award (a peer-nominated award for the emerging scientist with the most groundbreaking and impactful scientific program), the Trish Green Lifetime Achievement Award for Quality of Life Research from the American Cancer Society, and the "Excellence in Mentoring Women" Early Faculty Award from UW. This year, she was named the Aldarra Endowed Chair for Pediatric Survivorship and Outcomes at UW.
Dr. Rosenberg earned her bachelor's degree in international health from Brandeis University and her medical degree from Stanford University School of Medicine. She also holds a Master of Science in epidemiology and clinical research methods from the University of Washington School of Public Health and a Master of Arts in bioethics from the UW School of Medicine.
Dr. Rosenberg will join Dana-Farber/Boston Children's on January 3, 2023.