International Patient Services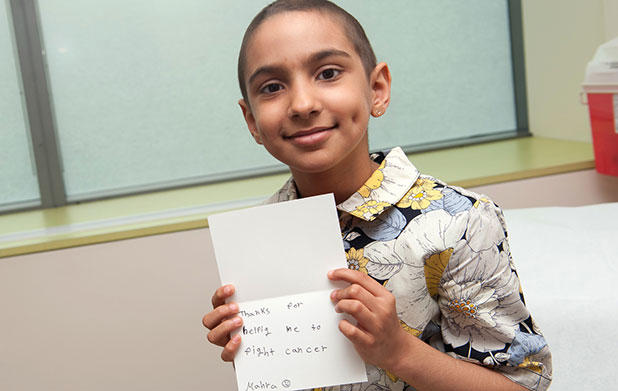 We welcome patients from all over the globe who need advanced treatment and specialized expertise that is not available at home. Our staff who specialize in international patients can guide you through the process of becoming a patient and travelling to Dana-Farber/Boston Children's.
All international patients are assigned a case coordinator to assist with logistical and financial considerations related to becoming a patient and receiving treatment here. Our staff strive to meet the cultural, dietary, and religious needs of patients of all backgrounds.
Contact us via email at pedi_international@dfci.harvard.edu or by phone at +1 617-355-5209 to speak with a representative.
Interpreter Services
Staff from our Interpreter Services Department are available 24 hours a day, seven days a week, including holidays. In addition to face-to-face interpreter services, the department uses technology like the dual-phone system and video conferencing to provide assistance remotely. If you need an interpreter, call 1-617-355-7198
We offer interpreter services for the following languages:
| | | |
| --- | --- | --- |
| Albanian | Greek | Portuguese |
| American Sign Language | Gujarati | Punjabi |
| Amharic | Haitian-Creole | Romanian |
| Arabic | Nausa-Nigeria | Russian |
| Armenian | Hebrew | Serbian |
| Bengali | Hindi | Slovak |
| Bosnian | Hmong | Somali |
| Bulgarian | Hungarian | Spanish |
| Burmese | Icelandic | Swahili |
| Cape Verdean | Indonesian | Telegu |
| Certified Deaf Interpreter | Italian | Thai |
| Chinese Cantonese | Japanese | Tibetian |
| Chinese Mandarin | Karen | Tigrinya |
| Cued Speech | Khmer | Turkish |
| Czech | Kinyarwanda | Twi |
| Dinka | Korean | Urdu |
| Dutch | Laotian | Vietnamese |
| Ethiopian | Mongolian | Waray |
| Farsi | Nepali | Wolof |
| French | Pashto | Yiddish |
| German | Polish | Zulu |