Our Facilities

Our newly-renovated inpatient and outpatient care areas are designed specifically to meet the needs of children, teens, and their families, while providing the highest level of care. Our main facilities are on the campuses of Dana-Farber Cancer Institute and Boston Children's Hospital, located side by side in Boston, Massachusetts. All care areas are connected through well-signed hallways and indoor bridges.
Get directions, campus maps, and other resources to help you find your way to our main campus and around our facilities, or learn more about our facilities below.
Dana-Farber's Jimmy Fund Clinic is one of the world's premier centers for pediatric cancer treatment and research. It encourages hope for children with cancer and their families. Designed especially for the comfort and convenience of pediatric cancer patients and their families, the Jimmy Fund Clinic follows the "family-centered care" philosophy of Institute founder, Dr. Sidney Farber, assuring that a patient's psychological, family, and spiritual needs are met as well as their medical needs.
The Jimmy Fund Clinic includes:
An expansive infusion room with both shared and private spaces and various activity options.
Multiple consultation rooms to provide families private meeting spaces.
Procedure rooms designed to allow procedures such as spinal taps during patient appointments; the ability to provide sedation for procedures assures patient comfort and convenience.
The Blum Pediatric Resource Room, with resources for parents and activities and iPads for children and teens.
Its own independent pharmacy.
Jimmy Fund Clinic resources
Consultation and isolation rooms provide private meeting areas for your child and family to meet with members of our care team before, during, and after treatment.
Complementary therapies such as massage and music therapy are available. (Complementary therapies for both children and adults also can be accessed through The Leonard P. Zakim Center for Integrative Therapies and Healthy Living at Dana-Farber.)
An activities coordinator and adolescent activities specialist distract young children, play games with older children, and organize outside events, such as baseball games and holiday parties.
A child life specialist in the Blum Resource Room provides access to educational books, videotapes, and DVDs, as well as Internet access and educational programs.
Contact Information
Hours of operation:
Monday–Friday (all services): 7:30 a.m.-5:30 p.m.
Saturday and Sunday (pre-scheduled infusions only): 8:00 a.m.-3:30 p.m.
Location: Dana building, 3rd floor
Phone numbers:
Call 911 for life-threatening emergencies.
Note: Outpatient care for most non-malignant hematology patients is provided on the 7th floor of Boston Children's Hospital and at satellite locations in Lexington, Peabody, Waltham, and Weymouth.
Most inpatient care is provided on the 6th floor at Boston Children's Hospital. Our newly-expanded inpatient unit includes private rooms for patients and family members who may need to stay overnight. The new unit provides more spacious rooms and hallways, an outdoor garden, and a resource room. Neuro-oncology patients on the ninth floor can also take advantage of the new addition and garden. Our inpatient unit offers:
Accommodations for a parent, so children staying overnight never have to be alone
Family lounges, activity rooms, an outdoor garden available only to oncology and hematology patients and families, laundry facilities, and a special resource room filled with educational and fun activities
Kid-friendly treatment rooms designated for blood drawing, diagnostic imaging, surgery, and other procedures
Kitchens with separate refrigerators to store patient and parent food
Each patient room has a private wardrobe, storage space, and entertainment features, including a TV with a VCR or DVD player, PlayStation 2, and Internet access.
Jimmy Fund Clinic: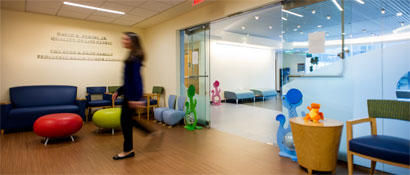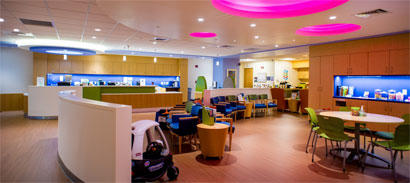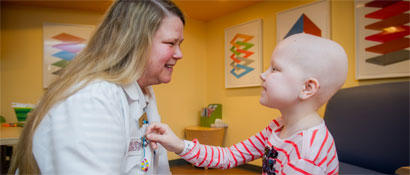 Infusion Room in the Jimmy Fund Clinic: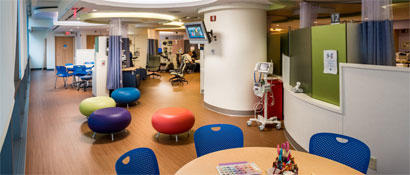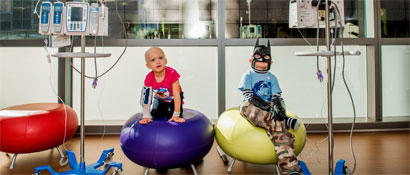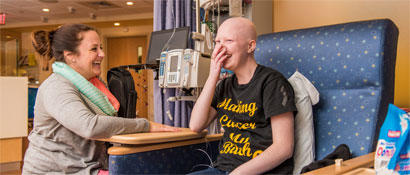 Boston Children's Hospital Inpatient Care
(with special courtyard for oncology patients only):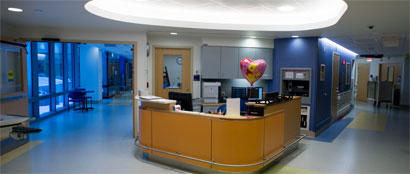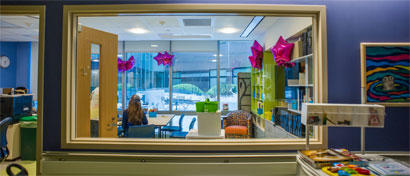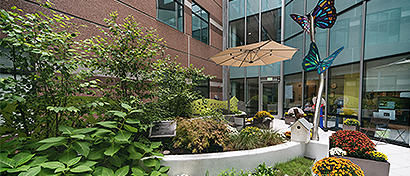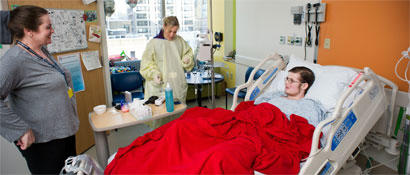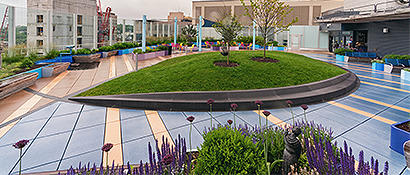 Our 14-bed stem cell transplant unit at Boston Children's Hospital is specially designed to protect children during treatment. This state-of-the-art unit meets the needs of children undergoing stem cell (bone marrow) transplant by minimizing their exposure to toxins and germs without curtailing their freedom to leave their room or interact with family and friends.
Prescriptions can be filled at our conveniently located pharmacy. Dana-Farber/Boston Children's pharmacists have online access to patient medical records, doctors' notes, and up-to-date laboratory results—information that is not generally available to retail pharmacists. Our pharmacists answer drug and treatment related questions, teach patients and families about drug administration, promote patient safety, and use advanced technologies such as computerized order-entry systems. They also help develop clinical trials and monitor drug usage for safety and effectiveness. And they carry newer drugs (most local pharmacies don't), meaning there is no delay before starting treatment.
The Friends' Corner Gift Shop at Dana-Farber and the Trinkets and Treasures gift shop at Boston Children's Hospital carry a wide selection of unique gifts and everyday items for patients, families, and visitors, including hospital logo merchandise; greeting cards; stuffed animals; toys, games, and puzzles; and children's books and magazines. Friends' Corner is open Monday through Friday, 9:00 a.m.-5:00 p.m.; Trinkets and Treasures is open Monday through Friday, 8:00 a.m.-8:00 p.m., and Saturday and Sunday, 10:00 a.m.-6:00 p.m.