Surgery for Pediatric Cancer and Brain Tumors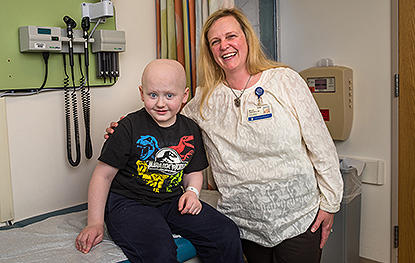 Cancer patients in need of surgery, including pediatric neurosurgery, at Dana-Farber/Boston Children's Cancer and Blood Disorders Center have access to a multidisciplinary cancer treatment team that includes world-class pediatric surgical oncologists, state-of-the-art facilities, and a dedicated anesthesiology department for perioperative care.
Working together with treatment teams from all of our pediatric cancer and blood disorders centers, our pediatric surgical oncologists are available for consultation and respond quickly to the needs of our patients when surgery is required. During what can be a very stressful time, we provide families and patients with convenient, high-quality care and offer access to highly specialized resources and world-class expertise in anesthesia, intensive care, medical subspecialties, and radiology.
Surgery can be required for multiple reasons:
As part of a diagnosis: Often times surgical intervention, such as a biopsy or sampling of involved tissues, is required to establish the diagnosis (whether the mass is benign or malignant) and, if it is malignant, whether it has spread.
In support of a treatment: Surgery may be needed to provide a route of access (intravenous (IV)) for patients who require chemotherapy. A central venous line or port-a-cath is frequently placed to administer these agents.
As a primary component of a treatment: Surgery is often required as one component of the successful treatment of a child's tumor. A multimodality approach—the combination of surgery, chemotherapy, radiotherapy, immunotherapy, etc.—has resulted in the highest rates of cures in many types of pediatric cancers. The physicians and surgeons at Dana-Farber/Boston Children's work collaboratively to provide this unified therapy to all of our patients and their families. Our pediatric oncologic surgeons are skilled in the latest surgical techniques including minimally invasive surgery and use of the most advanced tools available for replacement of bones and joints. They are skilled in complex surgeries, including liver resection and transplantation, nephrectomy, rotationplasty, limb-salvage surgery, and more. Our surgeons are active in all of the major national and international clinical cooperative group trials, which ensures a patient's access to the most up-to-date research advances and innovative therapies available.
One of the many benefits we offer patients is a state-of-the-art Division of Perioperative Anesthesia available for all perioperative care (preoperative evaluations, postoperative intensive care, pain management, etc.). Prior to surgery, a surgeon and anesthesiologist will visit with a patient's family to discuss the surgical procedure and answer any questions they may have regarding the pre-, peri-, and postoperative care. After surgery, patients go to a post-anesthesia care unit or the intensive care unit (ICU), depending on the magnitude and complexity of the surgery. Generally after a surgical procedure, a patient will spend time in one of several options:
The recovery room or post-anesthesia care unit (PACU) for several hours before being sent home (generally for minor procedures including biopsies and venous access placement)
A hospital in patient unit to recover for 24 hours or less (for more invasive procedures or for the initiation of postoperative treatments)
A hospital unit to recover for a few days (for more extensive operations)
An intensive care unit for a few days followed by transfer to an inpatient hospital unit until the patient is ready to go home (discharge can occur up to 5-7 days later; for major operations)
Brain tumor patients in need of surgery at Dana-Farber/Boston Children's are treated by pediatric neurosurgeons who are experts in neurosurgical oncology and offer access to cutting edge intraoperative technologies including radiologic guidance systems, intraoperative MRI, intraoperative ultrasound, and minimally invasive endoscopic techniques. Collectively, this combination of expertise and technology enhances the precision of biopsy or resection of tumors, minimizes the risk to surrounding brain structures, optimizes treatment and the extent of resection, shortens operating times, and reduces recovery times for our patients.
A reputation for innovation and achievement helps us attract some of the world's most skilled and accomplished neurosurgeons. Our neurosurgeons are integral members of our multidisciplinary brain tumor treatment teams. Visit our Brain Tumor Center to learn more about our expertise in diagnosing and treating pediatric brain tumors.
Neurosurgery Innovations
Our neurosurgeons are involved in research that offers new hope for children with brain, spine, or central nervous system tumors. We developed and refined some of the most influential advances in pediatric neurosurgery, including:
The latest radiation and chemotherapy techniques for tumors that require treatments in addition to surgery
Interventional radiology techniques to eliminate the blood supply to tumors making surgery safer  
Laser therapy for tumors in delicate areas where it might be safer to destroy them versus removing them
Intraoperative MRI, the introduction of magnetic resonance imaging in a neurosurgical operating room, allowing doctors to view detailed, real-time images of the brain and spine while performing surgery
Our laboratory research focuses on the basic mechanisms of common neurosurgical conditions, such as:
The genetic makeup of brain tumors
Measuring certain enzymatic compounds as markers of tumor growth and recurrence
Detailed genetic analyses of malignant and non-malignant brain tumors in children
Breakthroughs in our laboratories and clinics play a critical role in children's health by improving brain surgery and making the experience easier for children and their families.
Our team is actively involved in research to improve our understanding of why brain diseases occur and to develop better methods of early detection to ensure that these conditions have as little impact as possible on the developing brain.