Advances in Pediatric Hematology/Oncology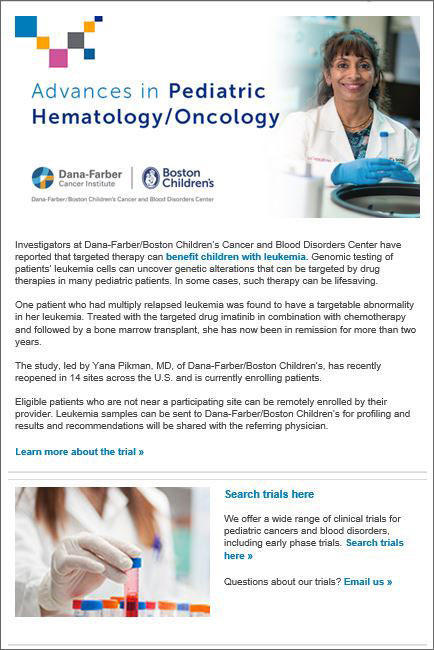 Our faculty of researchers and clinicians are among the most active in the world continuously seeking breakthroughs in the treatment of pediatric cancers and blood diseases. Advances in Pediatric Hematology/Oncology provides quarterly updates of our progress:
Research Advances: Get the latest protocols for brain tumors, blood diseases, hematologic malignancies, stem cell transplantation, and solid tumors
Clinical Trial Updates: Learn about Dana-Farber/Boston Children's-initiated clinical trials, including phase I trials
Expert Commentary: Hear from our world-renowned pediatric oncology and hematology specialists on key topics such as gene therapy, MIBG stem cell transplantation, survivorship, and surgical oncology
Sign up to receive Advances in Pediatric Hematology/Oncology.
We will never sell your personal information or share it with another company. Read our privacy statement for details.