Clinical Training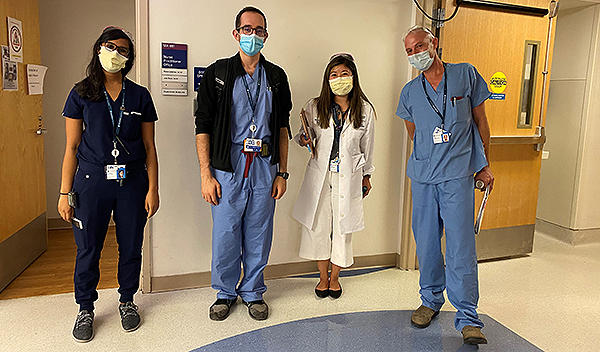 Fellows do one year of clinical training and rotate through six core experiences: inpatient hematology, hematologic malignancy, solid tumor, stem cell transplantation, ambulatory hematology, ambulatory oncology, and neuro-oncology. They also have one elective block to pursue additional clinical experiences in areas of particular interest. There is a high degree of "hands-on" clinical responsibility. A queue system is used to be sure that fel­lows longitudinally care for patients with a broad distribution of diseases.
The program is similar for most fellows but is big enough that it is possible to vary the clinical experience for fellows who need a special program or want additional training in other spec­ialties (e.g. ID, immunology, nuclear medicine, genetics/me­tabolism, etc.). We are always willing to discuss unique arrangements and to try to accommodate our fellows' interests, including those whose interests lie astride or between disciplines, because we believe such individuals enrich the program with new views, expertise, and experiences.
Fellows spend one day per week in the outpatient pediatric oncology clinic where each fellow has primary responsibility for a dedicated panel of oncology, bone marrow failure, and stem cell transplant patients. The fellow provides direct, hands-on care for his/her patients that are undergoing therapy, for those who are being evaluated for complications of therapy or disease, and for patients followed off-therapy. In general, the fellow spends about six hours per week in this clinic. Each clinic includes a conference where all patients are discussed with a team of attending physicians.
Fellows see outpatient hematology patients half a day twice monthly. On average, fellows see two to four patients twice monthly and fellows have a panel of hematology patients for whom they serve as the primary physician.
A clinical advisor is assigned to each first-year fellow at the start of fellowship and remains available to fellows throughout their training. Fellows and advisors meet informally about every three months to talk about the transition to fellowship, to discuss issues fellows face in and out of the hospital, and to provide an extra layer of support and mentoring. In addition, the advisor receives copies of formative evaluations and clinical feedback and is available to work with fellows to address personal learning goals or areas of improvement. The fellowship directors and division leadership also meet twice a year with each fellow to discuss goals, performance, and personal issues, and provide overall guidance for the fellow during all three years of fellowship.
There are a large number of weekly conferences and rounds on a variety of topics. Fellows are expected to attend conferences that are specific to a service during their rotations on that service and are invited to attend at other times. A few conferences (Hematology Teaching Conference, Oncology Lecture Series, Pediatric Oncology Conference, and Tumor Board) are regularly attended by most or all fellows.
Bone Tumor (Musculoskeletal) Conference (Tuesdays, 11:00 a.m.-12:00 p.m., every other week) - Interdisciplinary conference involving surgeons, oncologists, and radiologists. Active patients with musculoskeletal tumors are presented, and diagnostic and management issues are discussed.
Brain Tumor Clinic Conference (Wednesdays, 12:00-1:00 p.m.) - Patients to be seen that day are discussed by a multidisciplinary team, including neuro-oncologists, neurosurgeons, radiation oncologists, psychosocial clinicians, neuropsychologists, and physical therapists. Fellows are urged to participate if one of their patients is attending the clinic that day.
Children's Hospital Medical Grand Rounds (Wednesdays, 12:00-1:00 p.m.)
Hematologic Malignancy Conference (Wednesdays, 4:00-5:00 p.m.) - A review of data, including bone marrows and other pathology and radiographic information, that relates to active patients with hematologic malignancies, with discussion about their course and decision-making.
Hematology Conference (Fridays, 8:15-9:15 a.m.) - A review and discussion of the patients followed by the hematology service is led by the fellow on the inpatient hematology rotation. Many upper year fellows also attend. Current articles from the hematology literature are also reviewed.
Hematology/Oncology Research Conference (Thursdays, 4:00-5:00 p.m.) - Boston Children's Hospital and Dana-Farber Cancer Institute investigators present their research. Fellows are encouraged to attend.
Solid Tumor Meeting (Fridays, 8:00-9:00 a.m.) – Clinical conference to review solid tumor inpatients and new diagnoses and discuss relevant journal articles.
Hematopoietic Stem Cell Transplantation Conference (Thursdays, 8:30-9:30 a.m.) - Issues in transplantation are presented by experts in the field.
Hematopoietic Stem Cell Transplantation Intake Rounds (Mondays, 2:00-3:00 p.m.) - New patients referred to the transplant service are reviewed.
Neuroradiology Conference (Thursdays, 11:15 a.m.-12:15 p.m.) - Patients with brain tumors are discussed during this multidisciplinary conference.
Oncology Clinic Conference (Daily, 2:30-3:30 p.m.) - Each oncology care provider presents for review the patients seen by him/her that day. Fellows attend weekly on their assigned day for outpatient oncology clinic.
Pediatric Oncology Conference (Mondays, 4:00-5:00 p.m.) – Presentation of clinical research and practice updates by local and invited speakers.
Solid Tumor/Lymphoma Conference (Tuesdays, 12:00-1:00 p.m.) - Active patients with solid tumors and lymphomas are reviewed, and diagnosis and management issues are discussed in this multidisciplinary radiology conference (radiology, radiation oncology, oncology, surgery).
Translational Research Conference (selected Tuesdays, 11:00 a.m.-12:00 p.m.) - Lab scientists and clinicians from the program review recent publications, discuss current studies within the department, and/or discuss upcoming therapeutic protocols, with the goal of bringing basic science and clinical practice together.
Fellows from all years take home calls for the hematology, oncology, and stem cell transplant services. In some circumstances (for example, a new patient with leukemia), fellows may be asked to return to the hospital from home, but this is uncommon. All night calls end at midnight, ensuring that the educational value of taking night calls is retained while limiting undue fatigue. Weekend call duties take two forms: fellows may take home night calls from 6:00 p.m.-midnight on either Friday or Sunday evenings, with the remainder of the weekend free, or they may be assigned to weekend coverage (Saturday, 8:00 a.m.-6:00 p.m., in the hospital with home calls until midnight, and Sunday, 8:00 a.m.-6:00 p.m., in the hospital). Dedicated hospitalists oversee care of inpatient hematology, oncology, and stem cell transplant patients seven nights a week. The hematology/oncology hospitalist also covers all outpatient phone calls that arrive after midnight. Limiting on-call duties in the second and third year of the program is another way that we support research training for our fellows.