Resource Centers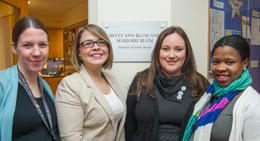 When a child has a serious illness that requires hospital care, you may have questions about the illness itself, treatment options, how the disease can affect your physical and emotional health, and what support resources are available.
The patient and family resource centers at Boston Children's Hospital and Dana-Farber Cancer Institute provide comfortable places to learn and pass the time with other patients and families going through a similar experience. Each room offers computer stations, books, brochures, videos, and CDs to help you find the information and support you may need.
The Betty Ann Blum and Marjorie Blum Pediatric Resource Room provides a comfortable place for kids and parents to learn about childhood cancer, access free cancer-related resources, and find support programs. Located near the Jimmy Fund Clinic on the third floor of Dana-Farber's Dana building, the resource room can be an enjoyable place to visit during a clinic appointment. We offer daily activities for pediatric patients and their families. Stop by to visit our professional staff and volunteers. We are here to help.
Resources for Parents
Information about support organizations
Educational resources: Books, brochures, CDs, DVDs
Access to programs and services at Dana-Farber/Boston Children's
Resources for new patients
Internet access
English-as-a-Second-Language (ESL) resources
Oncology Camp applications
Programs and Resources for Pediatric Patients and Siblings
Creative arts activities
Music therapy
Cooking classes
BEADS storytelling program
Music and audiobooks on iPods
Magazines, books, and digital books on Kindle
Board games, DVDs, computer games, Nintendo Wii®
Medical play activities
FACES, a program to help female patients 10 or older cope with the side effects of treatment
FLASHES, a program for boys age 10 or older to share their experiences and learn about photography
College preparation and scholarship materials; college care-package program
If you have questions about the Blum Pediatric Resource Room, please email martha_young@dfci.harvard.edu or call 617-632-3900.
The One Mission Resource Room at Boston Children's provides services to patients and families on the hematology, oncology, neuro-oncology and stem cell transplant units at Boston Children's Hospital. Located in the Mandell Building in room 6205 between stem cell transplantation and general oncology/hematology units, the resource room provides family centered care and a space for patients and families to connect with others going through similar experiences. Support programs offered allow families to socialize, play games, offer relaxation, or share meals.
The resource room also offers access to reference materials and support programs that cover a wide array of educational topics. Both general and disease-specific information is available on topics including, but not limited to, hematological diseases, cancers, complementary therapies, nutrition, and coping with illness. With three computers available, families have access to the internet, word processing, emailing friends and families, or creating and maintaining patient websites. The resource room may also serve as a classroom where caregivers learn about all aspects of their child's care, from nutrition and blood counts to what to expect after discharge.
The resource room is staffed by two community resource coordinators and a team of volunteers. It is open seven days a week during the following times:
Monday-Friday: 9:00 a.m. - 8:00 p.m.
Saturday–Sunday: 9:00 a.m. - 6:00 p.m.
*Please note hours may vary based on volunteer availability.