Fellowship Education and Community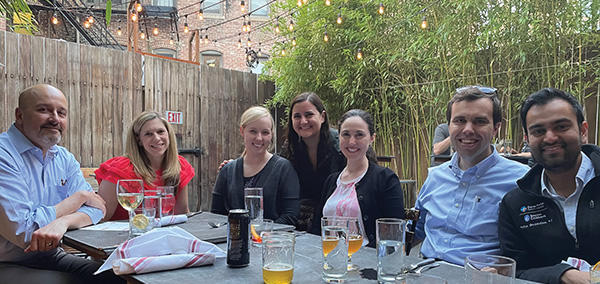 Longitudinal Educational Curriculum
The Longitudinal Core Education Series (LCES) begins during Fellow Orientation and continues weekly throughout the academic year. Geared predominantly to first-year clinical fellows, LCES covers fundamental topics in non-malignant hematology, central nervous system tumors, extracranial solid tumors, hematologic malignancies, and stem cell transplantation, as well as pathology, radiation oncology, endocrinology, symptom management, communication, transfusion medicine, and clinical genetics/genomics.
These sessions complement the experiential learning that occurs on rotations and in continuity clinics. Sessions are conducted virtually to facilitate participation by the most talented teachers across our faculty and to enable participation by upper-year fellows as desired. Most sessions are recorded and archived to allow for asynchronous review.
Consolidation Course
The Second-Year Consolidation Course is a week-long intensive learning experience for second-year fellows to reinforce and expand upon lessons learned in the previous year, and for career development. This includes next-level clinical didactics, career development sessions, and advanced communication skills training.
Retreats
The fellows are excused from clinical and research duties twice per year to connect as a program. Each Fellowship Retreat allows for all three classes of fellows to spend time together discussing program improvements, participating in community- and team-building events, and engaging in professional development. Retreats are planned by the chief fellow(s) with input from the fellows and program leaders.
Upper-year fellows are also invited to attend our annual Research Retreat, which typically begins with a morning of research presentations from each fellow, during which peers and faculty provide feedback and advice. This is followed by an afternoon of career development sessions designed to help fellows refine their longer-term research goals and career paths.
Reflective Practice
Recognizing that taking care of sick patients, particularly children with life-threatening diseases, can be demanding and emotionally challenging, first-year fellows participate in monthly Reflective Practice sessions run by an expert facilitator. These sessions provide a safe and confidential space for fellows to discuss clinical, professional, and personal challenges over the course of their first year. The Office of Clinician Support is a resource for all fellows and provides mental health services and wellness support for the Boston Children's community as needed.
Dinners and Events
The fellowship program has regularly scheduled fellowship dinners for each fellow class. These meals, often hosted at the homes of program leaders or at local restaurants, provide time and space for each fellow class to gather with fellowship leadership outside of the hospital.
There are also several events for fellow/faculty bonding, including an annual trivia night, happy hours, and end-of-year fellowship celebrations.