Your Primary Team

Your child's treatment at Dana-Farber/Boston Children's may involve a range of expert specialists. However, a primary team of caregivers will oversee your child's treatment and will work with you and your child throughout the treatment process. This primary team includes:
Primary pediatric oncologist or hematologist: A senior staff physician who specializes in treating young patients with cancer or blood disorders. The primary pediatric oncologist or hematologist will help develop an overall treatment plan and will coordinate with other doctors – such as surgeons, radiation oncologists, and others – throughout your child's treatment.
Pediatric oncology nurse: A registered nurse who specializes in treating young cancer patients, and teaches patients and families about procedures, medical terms, and medications.
Pediatric oncology fellow or nurse practitioner: A person with advanced training in pediatrics and cancer, who may oversee care, prescribe medications, or perform certain procedures.
Pediatric social worker: A professional who offers emotional support, guidance, advocacy, education and referrals to outside organizations.
Our Doctors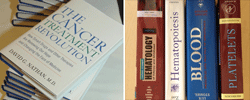 Caring for more than 5,000 children each year, our doctors have more experience treating children and young adults with cancer and blood disorders than any other center in New England and most centers in the United States.
Our hematologists and oncologists are among the world leaders in their respective specialties; many of our physicians have pioneered treatments for pediatric cancer and blood disorders that have been adopted by the medical communities around the globe.
Our Nurses
We subscribe to the notion that a hospital is only as good as its nurses. That's why each of our nurses average 10 years of experience caring for young children with cancer and blood disorders. Our dedication to nursing excellence is the reason we have been awarded Magnet status, an exclusive designation developed by the American Nurses Credentialing Center to recognize health care organizations that exemplify nursing excellence.