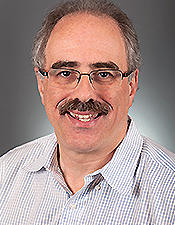 Alex's Lemonade Stand Foundation (ALSF), a leading funder of pediatric cancer research, has awarded a $4.95 million dollar grant to Leonard Zon, MD, of Boston Children's Hospital through its Crazy 8 Initiative, which aims to provide detailed roadmaps toward cures for specific, hard-to-treat childhood cancers through collaborative research. Through this grant, "Barcoding Pediatric Leukemia for Therapeutic Purposes," Zon will collaborate extensively with other scientists at Boston Children's Hospital and Dana-Farber Cancer Institute, including Scott A. Armstrong, MD, PhD; Vijay G. Sankaran, MD, PhD; Fernando Camargo, PhD; and Serine Avagyan, MD, PhD.
Led by Zon, investigators are using a new genetic fingerprinting technology to study how blood cancers, such as leukemia, arise in development. They aim to understand what types of blood stem cells lead to different forms of pediatric leukemia and which key gene and pathway disruptions can alter stem cell function and subsequently kill leukemia cells. Ultimately this will inform new drug development for therapies that will disrupt leukemic stem cells and not normal blood stem cells.
"We are very excited about the impact the Crazy 8 Initiative projects will have on childhood cancer research and ultimately on kids with cancer," said Jay Scott, Co-Executive Director of Alex's Lemonade Stand Foundation. "Dr. Zon's cellular barcoding project uses a new technology that will help us learn more how childhood leukemias arise in development. Importantly, this new technology can be extended to learn more about the development of all childhood cancers, making an even larger impact."
The Initiative kicked off in the Fall of 2018 with a meeting that brought together more than 90 scientists from around the world to help define the research landscape in eight key areas of need in order to tackle major obstacles impeding progress toward cures for childhood cancer. Through a rigorous review process, ALSF received over 100 letters of intent from researchers that resulted in 83 full grant applications which were ultimately narrowed down to four projects that will work to accelerate the pace of new cure discovery.
"The Crazy 8 Initiative is vital because it orchestrates talent from around the world and creates collective solutions. Pediatric cancer research is at an incredibly pressing moment right now, and we're thrilled to be at the forefront of this progress—generating opportunities to turn competition into collaboration by bringing world-class researchers together," said Liz Scott, Co-Executive Director of Alex's Lemonade Stand Foundation. "This initiative is monumental, and we know it will provide a tremendous impact globally in moving the needle for pediatric cancer research over the next five years."
Childhood cancer is the leading cause of death by disease in children, and the Crazy 8 Initiative is poised to change the trajectory of pediatric oncology. Grants from the Crazy 8 Initiative will fund research for innovative and rigorous approaches that directly address the most obstinate issues in pediatric cancer research. A key component of the Initiative is its approach in bringing cross-disciplinary scientists to work collaboratively in order to accelerate the pace of new cure discovery. For example, connecting neurologists and biologists with pediatric oncologists to work hand-in-hand in growing scientific discovery, while aiming to provide detailed roadmaps for hard-to-treat childhood cancers.
About Alex's Lemonade Stand Foundation  
Alex's Lemonade Stand Foundation (ALSF) emerged from the front yard lemonade stand of 4-year-old Alexandra "Alex" Scott, who was fighting cancer and wanted to raise money to find cures for all children with cancer. Her spirit and determination inspired others to support her cause, and when she passed away at the age of 8, she had raised $1 million. Since then, the Foundation bearing her name has evolved into a national fundraising movement. Today, ALSF is one of the leading funding of pediatric cancer research in the U.S. and Canada raising more than $200 million so far, funding over 1,000 research projects and providing programs to families affected by childhood cancer. For more information, visit https://www.alexslemonade.org/.