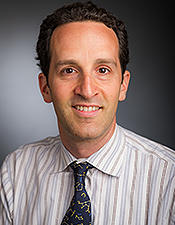 Daniel Bauer, MD, PhD, principal investigator and staff physician at Dana-Farber/Boston Children's Cancer and Blood Disorders Center, was today named the winner of the 2020 Outstanding New Investigator Award by the American Society of Gene & Cell Therapy (ASGCT).
Winners of the Outstanding New Investigator (ONI) Award come from academia, research foundations, government, or industry, and are recognized each year based on their contributions to the field of gene and cell therapy. Each awardee will present a plenary lecture at the ASGCT Annual Meeting highlighting their scientific accomplishments that led to the Award.
Bauer is a physician-scientist whose research focuses on functional genomics to dissect determinants of blood cell development and disease and develop innovative therapies. His clinical work is in pediatric hematology. He identified the BCL11A erythroid enhancer as a favorable target for therapeutic genome editing for the β-hemoglobinopathies, now being investigated in several clinical trials. His research has elucidated molecular mechanisms of hemoglobin switching; advanced high-throughput gene editing approaches to associate genetic variants with phenotypes; and developed methods for highly efficient and specific gene editing in human hematopoietic stem cells.
More information on the 2020 ASGCT Award Winners is available here.