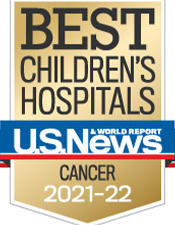 U.S. News & World Report has named Dana-Farber/Boston Children's Cancer and Blood Disorders Center the top pediatric cancer program in New England and #2 in the nation in its 2021-22 Best Children's Hospitals report. Dana-Farber/Boston Children's has been recognized as one of the top three pediatric cancer centers in the country each year since the ranking's inception, earning more #1 rankings than any other program.
Boston Children's Hospital remains the #1 pediatric hospital in the nation for the eighth year in a row in U.S. News' top hospital listings.
"It is an honor that our program is recognized by U.S. News & World Report as one of the top pediatric cancer programs in the country and the top program in New England," said Scott A. Armstrong, MD, PhD, President of Dana-Farber/Boston Children's. "Our outstanding doctors, nurses, and staff work every day to provide unsurpassed clinical care while also conducting world-class research, all on behalf of our patients and their families."
Dana-Farber/Boston Children's brings together two internationally known research and teaching institutions that have provided comprehensive care for pediatric oncology and hematology patients since 1947. The Harvard Medical School affiliates share a clinical staff that delivers inpatient care and surgery at Boston Children's and most outpatient care at Dana-Farber Cancer Institute.
David A. Williams, MD, Chief, Division of Hematology/Oncology, Boston Children's Hospital, said: "Our unique center brings together an outstanding children's hospital and cancer center to provide world-class care to children affected by cancer and blood disorders. At the same time, we are conducting cutting-edge research to find new treatments and cures. This top ranking is a testament to our exceptional teams and unparalleled programs that are working tirelessly for our patients and families."
The 15th annual rankings recognize the top 50 pediatric facilities across the U.S. in 10 pediatric specialties, including cancer. Hospitals received points for being ranked in a specialty, and higher-ranking hospitals receive more points.
"When choosing a hospital for a sick child, many parents want specialized expertise, convenience and caring medical professionals," said Ben Harder, chief of health analysis and managing editor at U.S. News. "The Best Children's Hospitals rankings have always highlighted hospitals that excel in specialized care. As the pandemic continues to affect travel, finding high-quality care close to home has never been more important."
For 2021-22, U.S. News ranked the top 50 centers in each of these 10 pediatric specialties: cancer; cardiology and heart surgery; diabetes and endocrinology; gastroenterology and gastrointestinal surgery; neonatology; nephrology; neurology and neurosurgery; orthopedics; pulmonology and lung surgery; and urology.
For more information and for the full rankings, visit Best Children's Hospitals.