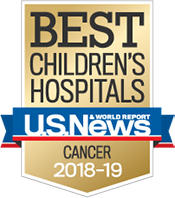 U.S. News & World Report has ranked Dana-Farber/Boston Children's Cancer and Blood Disorders Center the top pediatric cancer program in New England and #3 in the nation in its new 2018-19 Best Children's Hospitals report. Dana-Farber/Boston Children's has been recognized as one of the top three pediatric cancer centers in the country each year since the ranking's inception in 2007, including more #1 rankings than any other program. Boston Children's Hospital remained the best overall pediatric hospital in the nation.
"This recognition affirms that parents facing the difficult choice of how to care for a child with cancer have a tremendous resource at Dana-Farber/Boston Children's. In fact, families from all over the world seek care from our outstanding specialists," said David A. Williams, MD, president of Dana-Farber/Boston Children's Cancer and Blood Disorders Center. "We are a leader in delivering the highest-quality care, while also being at the forefront of research and new treatment development, allowing us to provide the latest therapies, such as cancer immunotherapy and gene therapy, to our patients. Our outcomes and survival rates exceed national averages despite including some of the most complex cases of pediatric and young adult cancers."
Dana-Farber/Boston Children's brings together two internationally known research and teaching institutions that have provided comprehensive care for pediatric oncology and hematology patients since 1947. The Harvard Medical School affiliates share a clinical staff that delivers inpatient care and surgery at Boston Children's and most outpatient care at Dana-Farber Cancer Institute.
Overall, U.S. News ranked Boston Children's first in Nephrology, Neurology & Neurosurgery and Orthopedics; second in Cardiology & Heart Surgery, Diabetes & Endocrinology and Gastroenterology & GI Surgery; third in Neonatology, Cancer and Urology; and fourth in Pulmonology.
"We are so proud of the work we do and it is nice to be recognized by U.S. News & World Report as one of the top three cancer programs every single year of the last decade, including ranking first more often than any other program," said Lisa Diller, MD, chief medical officer of Dana-Farber/Boston Children's Cancer and Blood Disorders Center. "In addition, we were recently the only pediatric stem cell transplant center in the U.S. to achieve a rating of 1 by the Center for International Blood and Marrow Transplant Research, which is very rare for a pediatric center and further confirmation of the effectiveness of our approach."
U.S. News introduced the Best Children's Hospitals rankings in 2007 to help families of children with rare or life-threatening illnesses find the best medical care available. The rankings are the only comprehensive source of quality-related information on U.S. pediatric centers.
The 12th annual rankings recognize the top 50 pediatric facilities across the U.S. in 10 pediatric specialties. Hospitals received points for being ranked in a specialty, and higher-ranking hospitals receive more points. The Best Children's Hospitals Honor Roll recognizes the 10 hospitals that received the most points overall.
The U.S. News Best Children's Hospitals rankings rely on clinical data and on an annual survey of pediatric specialists. The rankings methodology factors in patient outcomes, such as mortality and infection rates, as well as available clinical resources and compliance with best practices.
For more information, visit Best Children's Hospitals and use #BestHospitals on Facebook and Twitter.