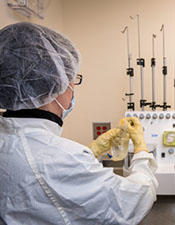 Dana-Farber/Boston Children's Cancer and Blood Disorders Center was ranked as one of 15 transplant centers in the country that performed above the expected survival rate, according to a new report. The report, compiled by the Center for International Blood and Marrow Transplant Research (CIBMTR), analyzes outcomes for recipients of allogeneic (unrelated, matched donor) hematopoietic stem cell transplant by measuring one-year overall survival.
"Because centers vary considerably in the risk level of cases treated, a statistical model was developed to adjust for several risk factors known or suspected to influence outcome," according to a statement from the CIBMTR.
The report generated from this analysis is available to the public and is intended to provide transplant recipients and their families with the latest survival rate information for centers performing transplants across the country.
With the ability to score only one of three ratings — a -1, 0 or the highly-sought-after 1 rating — the vast majority of transplant centers score a 0, indicating that their patient survival rate met expectations.
This year, fewer than 9% of programs achieved a 1.
"I'm very proud that the 2021 Transplant Center-Specific Survival Report published by CIBMTR has determined that our program has exceeded the expected survival rate for transplant patients," says Leslie S. Kean, MD, PhD, director of the Stem Cell Transplant Center at Dana-Farber/Boston Children's.
With a score of 1, Dana-Farber/Boston Children's is one of only four pediatric stem cell transplant centers in the U.S. to achieve this rating for 2021.
"This distinction reflects the exceptional care that the entire hematopoietic stem cell transplant team provides our patients, the outstanding facilities available to them at Dana-Farber/Boston Children's, and the state-of-the art clinical trials that are led by members of our team, designed to make transplant safer and more effective for the patients we treat," says Dr. Kean.
In December 2021, the FDA approved the first drug to prevent acute graft-versus-host disease (GVHD) based on results from a study led by Dr. Kean. According to Dr. Kean, this approval will help to make transplants safer for more patients.
This score – achieved by a small minority of programs – reflects the incredible multidisciplinary care provided to our patients and families," says Leslie E. Lehmann, MD, clinical director of the Stem Cell Transplant Center. "Physicians, nurses, nursing assistants, pharmacists, child life specialists and many others give their utmost every day to create a medically excellent, safe and nurturing environment that optimizes the process of recovery."
Review the Dana-Farber/Boston Children's center-specific data on the National Marrow Donor Program website.