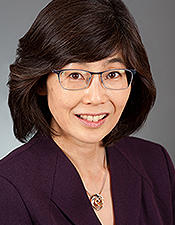 Akiko Shimamura, MD, PhD, of the Dana-Farber/Boston Children's Cancer and Blood Disorders Center, has been named the recipient of the 2020 Frank A. Oski Memorial Lectureship by the American Society of Pediatric Hematology/Oncology (ASPHO).
The purpose of the annual Frank A. Oski Memorial Lectureship is to honor Dr. Oski's many contributions to the field of pediatric hematology/oncology and ensure a younger generation of pediatric hematology/oncology specialists remains aware of his legacy. The lectureship is awarded to an outstanding clinical or laboratory investigator in pediatric hematology/oncology whose cutting-edge research is of the caliber of the investigations made by Dr. Oski.
The Frank A. Oski Memorial Lectureship is presented annually to an accomplished clinical or research scientist with an MD, PhD, or MD/PhD degree, and while it is not required, ideally they would be a board certified pediatric hematology/oncology specialist. The recipient should be in early or mid-career, be known as an excellent speaker and investigator, and must agree to present a 35-45 minute state-of-the-art lecture describing his/her research at the ASPHO Conference. The recipient need not be a member of ASPHO.
Past recipients with ties to Dana-Farber/Boston Children's include Joanne Wolfe, MD, MPH (2016); Scott A. Armstrong, MD, PhD (2014); David Williams, MD (2006); and Stuart Orkin, MD (2003).