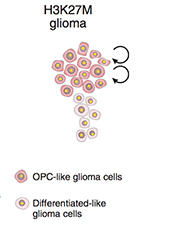 For more than 15 years, pediatric neuro-oncologist Mariella Filbin, MD, PhD, has been on a scientific crusade to understand DIPG (diffuse intrinsic pontine glioma). She hopes to one day be able to cure a disease that has historically been thought of as an incurable type of childhood brain cancer.
"While I was in medical school, I met a young girl who was diagnosed with DIPG," Filbin recalls. "When I heard that there was no treatment available, I couldn't believe that was the case. It really made a huge impression on me and since then, I've dedicated all my research to fighting DIPG."
Her mission brought her to Boston Children's Hospital for her medical residency program and later, to do postdoctoral research at the Dana-Farber/Boston Children's Cancer and Blood Disorders Center. Now, she's starting her own research laboratory focused on DIPG — which has also been called diffuse midline glioma (DMG) in recent years — and continuing to treat children with brain tumors at the Dana-Farber/Boston Children's pediatric brain tumor treatment center. She's also a scientist affiliated with the Broad Institute Cancer Program.
This year, Filbin has made new impact in the field by leveraging the newest single-cell genetic sequencing technologies to analyze exactly how DIPG develops in the first place. Her latest research, published in Science, entailed profiling more than 3,300 individual brain cells from biopsies of six different patients.
Using what's known as a single-cell RNA sequencing approach to interrogate the makeup of DIPG/DMG tumors, Filbin was able to identify a particularly problematic type of brain cell that acts forever young, constantly dividing over and over again in a manner similar to stem cells.
Read the full story on Answers.