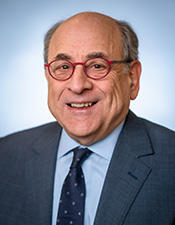 Stuart H. Orkin, MD has been awarded the third Elaine Redding Brinster Prize in Science or Medicine for his landmark discoveries of the molecular basis of blood disorders and using the basic science findings for therapeutic approaches. Orkin will accept the prize March 13, 2024, as part of the day-long Ralph L. Brinster Symposium.
The Elaine Redding Brinster Prize in Science or Medicine is presented annually to an individual from any country to recognize their outstanding discovery for its major impact on biomedicine. The Prize is administered by the Institute of Regenerative Medicine (IRM), Perelman School of Medicine at the University of Pennsylvania, and is made possible through the generous support of the children of Ralph Brinster and Elaine Redding Brinster.
Dr. Orkin received his MD in 1972 from Harvard Medical School, followed by postdoctoral research at the National Institutes of Health and clinical training in pediatrics and hematology-oncology at Children's Hospital Boston and Dana-Farber, where he joined the faculty in 1978. Dr. Orkin is a Howard Hughes Medical Institute Investigator and was elected to the 2019-2020 Council of the National Academy of Medicine. Over the past decade, his laboratory has defined critical nuclear regulators of hematopoiesis.
Past Recipients of The Elaine Redding Brinster Prize include Huda Zoghbi, M.D. (Baylor College of Medicine) and C. David Allis, Ph.D. (Rockefeller University).
Learn more about the Elaine Redding Brinster Prize in Science or Medicine.