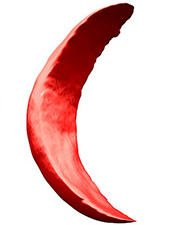 It's been known for more than 40 years that in rare individuals, lingering production of the fetal form of hemoglobin — the oxygen-transporting protein found in red blood cells — can reduce the severity of certain inherited blood disorders, most notably sickle cell disease and thalassemia. Typically, however, a protein called BCL11A switches off fetal hemoglobin production past infancy, but exactly how this happens has not been well understood until now.
In a new paper in Cell, researchers at Dana-Farber/Boston Children's Cancer and Blood Disorders Center have revealed how BCL11A controls the switch in the body's production of fetal hemoglobin to adult hemoglobin. It does so by binding to a DNA sequence — made up of the bases T-G-A-C-C-A — that lies just in front of the fetal hemoglobin genes.
"Genetically modifying this TGACCA segment could be another possible strategy to cure sickle cell disease by blocking BCL11A's ability to bind to this DNA site and switch off fetal hemoglobin production," says Stuart Orkin, MD, senior author on the study.