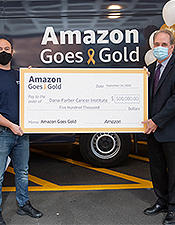 In an effort to raise awareness and funds in the fight against childhood cancer, Amazon surprised Dana-Farber/Boston Children's Cancer and Blood Disorders Center with a $500,000 donation. The gift will support pediatric research, holiday gifts, and virtual events for pediatric patients and their families as part of the company's global Amazon Goes Gold campaign during Childhood Cancer Awareness Month.
Amazon Goes Gold is the company's annual campaign to raise awareness and funds during Childhood Cancer Awareness Month. In addition to partnering with hospitals like Dana-Farber/Boston Children's to support their missions and patients, Amazon also colors packages gold (the official color of Childhood Cancer Awareness) during the month of September to further increase awareness around the world. Additionally, to date, Amazon has donated more than $6 million to childhood cancer programs across the country and around the world. This September, Amazon is doubling down on its focus toward innovative research by donating $4 million to eight leading cancer research institutions across the U.S.
"We are so grateful for the support from Amazon. This gift will enhance our efforts to identify new therapies for children and our work on health disparities in childhood cancer. New interventions are needed in both areas such that we can cure all children with cancer," said Scott A. Armstrong, MD, PhD, President, Dana-Farber/Boston Children's.
"We're excited to once again #GoGold for the month of September to help raise awareness for young innovators battling childhood cancer," said Rich Hanna, general manager of Amazon's Fall River fulfillment center. "At Amazon, we strive to be a good neighbor in the communities where our employees live and work. It's our hope that by supporting the research to fund a cure for childhood cancer, while also providing a virtual party for patients of the Dana-Farber Cancer Institute, we are able to deliver smiles for years to come."
"Make a wish list Amazon said, and we did. A week later, Amazon granted our wish and then some! The gifts that were donated will go into our "Special Day" closet, which we keep filled with gifts to recognize various milestones like the end of treatment, birthdays, and event help on extremely tough days for our patients," said Lisa Scherber, Director, Patient & Family Programs at Dana Farber/Boston Children's.
This donation will support Dana-Farber/Boston Children's commitment to providing children with cancer with the best treatment available today while developing tomorrow's cures through cutting-edge research. Specifically, Amazon's gift will fund developing targeted interventions in pediatric cancer, from developing new drugs to intervening in healthcare disparities.