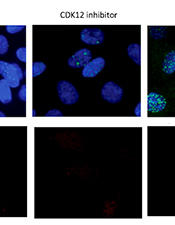 Screening a class of recently-developed drug compounds — so-called "CDK inhibitors" capable of blocking CDK7/12/13 proteins — against hundreds of different human cancer cell lines, researchers at Dana-Farber/Boston Children's Cancer and Blood Disorders Center have found that CDK12 inhibitors pack a particularly lethal punch to Ewing sarcoma, a rare cancer typically affecting children and young adults.
"No one has previously considered CDK12 inhibition as a way to combat Ewing sarcoma," says Kimberly Stegmaier, MD, senior author of the new Cancer Cell paper that describes the findings.
In 2014, Nathaneal Gray, PhD, co-author on the new paper, and his team were the first to develop CDK inhibitors.
"Now, in mice, we've shown that Ewing sarcoma cells die if CDK12 is knocked out genetically or chemically inhibited," Stegmaier says. What's more, her team has discovered that CDK12 inhibition can be combined with another drug, called a PARP inhibitor, to double down on Ewing sarcoma cells.
Read the full story on Answers.