Psychosocial Oncology Services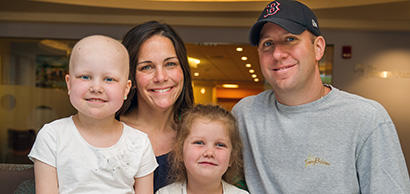 With the diagnosis and treatment of childhood cancer come many emotional and practical challenges. You don't have to face them alone.
Our Pediatric Psychosocial Oncology team, part of the Dana-Farber Department of Psychosocial Oncology and Palliative Care, includes social workers, psychologists, resource specialists, and a special educator, all of whom have special expertise in the social, emotional, and psychological aspects of caring for children with cancer.
Information on our Psychosocial Oncology Program is also available in Arabic, Chinese, and Spanish.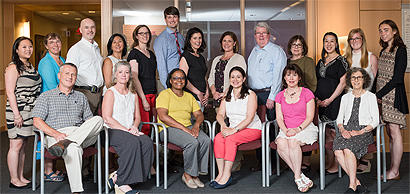 The experience of a serious illness can be challenging for the whole family, and it's normal for children, parents, siblings, and other caregivers to feel a range of emotions and need support. Our experts in Pediatric Psychosocial Oncology are here to support you and your family's emotional health as you manage cancer or another serious illness.
As a part of a child's ongoing care, a clinical social worker or psychologist will meet with your family to get to know you and discuss what psychosocial services may be useful. You may also meet with a resource specialist regarding eligibility for resource assistance programs. Psychiatrists are available for consultation if needed.
Your family's needs may change over time, and our team will work with you to make sure that you get the individual support you need throughout treatment.
We can help your family:
Adjust to the illness
Talk about the diagnosis
Cope with treatment and its side effects
Manage mood changes and behavioral challenges
Learn to ease stress and anxiety
Our social workers and psychologists are on the staff of Dana-Farber's Jimmy Fund Clinic, where your child will receive outpatient care, and Boston Children's Hospital, where our pediatric cancer patients are hospitalized. These professionals work closely with your child's medical teams at both institutions, as well as with other staff members involved in caring for your child and family.
Confidentiality
Our staff respects the privacy of your family and treats all communication with you as confidential.
In general, your written consent is required before information can be shared with anyone who is not part of your health care team. Only under certain very limited circumstances does the law require that confidential information be disclosed, including when someone is believed to be at serious risk of hurting himself/herself or another person, or when required during certain legal proceedings.
Our care team includes physicians, psychiatrists, psychologists, and social workers who specialize in working with children with cancer. Our philosophy of care acknowledges that the whole family is affected by a cancer diagnosis, and for that reason, we provide care and support for each family member throughout the various stages of the family's cancer journey.
Division of Pediatric Psychosocial Oncology
James Tulsky, MD, Chair, Department of Psychosocial Oncology and Palliative Care
William Pirl, MD, MPH, Vice Chair for Psychosocial Oncology
Anna Muriel, MD, MPH, Chief, Division of Pediatric Psychosocial Oncology
Deborah Berk, MSW, LICSW
Jorge Fernandez, MSW, LICSW
Amy Grose, MSW, LICSW
Larissa Hewitt, LISCW
Darcy Burgers, PhD
Kelsey Hamstead, LCSW
School Liaison Program
Marybeth Morris, EdM
Lisa Northman, PhD
Resource Specialists
Ida Alicea
Joseph Chabot, MS
Lilliana Lopera-Jimenez, BS
Patricia White, BS
Fellows
Anna Deering, LCSW
Kara Eagan, LCSW
Eric Proffit, PsyD
Administrative Support Specialist
To arrange to meet with a member of our Pediatric Psychosocial team, please call 617-632-6080 Monday through Friday. If you are a parent interested in joining the telephone support group, please call 617-632-5359 to be pre-screened.
Patients and families with urgent needs before or after clinic hours, on weekends or holidays should call Dana-Farber's page operator at 617-632-3352. Ask to speak with the Pediatric Psychosocial staff member on call.
We look forward to helping you and your family.
Pediatric Psychosocial Oncology Fellowships
Learn about our Post-Doctoral Psychology Fellowships in Pediatric Oncology, which train candidates who are interested in pursuing a career in pediatric psychosocial oncology.