Pediatric Global Oncology and Blood Disorders Education (GLOBE) Program
The Pediatric Global Oncology and Blood Disorders Education (GLOBE) Program – part of the Dana-Farber/Boston Children's Global Health Initiative (GHI) – hosts visiting pediatricians and nurses from developing and underdeveloped countries. The GLOBE Program is an observership experience in which participants attend patient rounds and other clinical activities, as well as participate in teaching conferences under the supervision of a Dana-Farber/Boston Children's staff physician. During their stay, GLOBE Scholars are also expected to design or participate in a clinical, quality, or research project of their own under the mentorship of a Dana-Farber/Boston Children's staff physician or nurse.
The GLOBE Program accepts international pediatricians and nurses who have either already completed training in pediatric hematology and/or oncology or are in their last year of training and are committed to pursuing a career in the field of pediatric cancer and/or blood disorders. Priority is given to applicants from low- and middle-income countries (as defined by the World Bank Classification System), but applicants from high-income countries may be eligible to apply as well. During the GLOBE Program, participants learn how pediatric oncology care is delivered in our institution, how our medical teams and departments are structured and interact, and how the latest diagnostic techniques and protocols are implemented in our institution. The GLOBE Scholars are also encouraged to share their own experiences and expertise with our trainees and staff.
The GLOBE Scholars can attend a minimum of one and a maximum of two consecutive service rotations. Each service rotation is four weeks long, during which each participant will be assigned to rotate through two of our five disease programs: 1) benign hematology, 2) hematologic malignancies, 3) solid tumors, 4) neuro-oncology, and 5) stem cell transplantation. The GLOBE Scholar will work on a daily basis under the guidance and supervision of the service attending. In addition, each GLOBE Scholar will be paired with a clinician who will mentor the participant over the entire length of the program, meet the participant weekly, and oversee the participant's individual project. We will do our best to meet the applicant's requests for rotation in a specific service, but because we host national and international students and residents through other programs, placements are done based on availability.
Due to government regulations, international visiting physicians and nurses at Dana-Farber Cancer Institute or Boston Children's Hospital may only participate in clinical activities as observers. These regulations prevent scholars from having direct patient care responsibilities. Despite this, scholars may observe clinical interactions fully and participate in bedside didactic teaching and help other team members with tasks that, though part of patient care, are not considered direct care (for example, literature searches regarding a clinical problem, and protocol review). All GLOBE Scholars must comply with the Dana-Farber Cancer Institute and Boston Children's Hospital Observership Policies at all times.
Finally, it is important for applicants to realize that the GLOBE Program is an informal educational experience. It does not represent a formal subspecialty or fellowship training. Therefore, the GLOBE Scholars will receive a certificate of attendance describing their participation dates and activities but will not receive any form of licensing or academic credit from Dana-Farber Cancer Institute or Boston Children's Hospital.
GLOBE Scholars have come from these countries: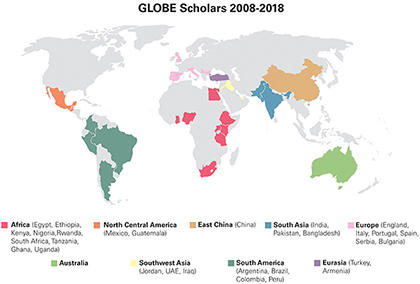 Required experience and qualifications
Physician candidates must:
Have graduated from an accredited medical school and hold a medical degree
Be currently practicing in pediatric hematology and/or oncology; be currently practicing in an ancillary subspecialty with a special interest in pediatric hematology and/or oncology; or be in their last year of pediatrics training and be committed to pursuing a career in the field of pediatric hematology and/or oncology
Nursing candidates must:
Have a Bachelor's (or higher) degree in nursing
Have at least two years of documented working experience in nursing
Have at least two years of documented working experience in pediatrics, oncology, or pediatric oncology
Work at a public or non-profit hospital in a low- or middle-income country
Not eligible
Undergraduate, graduate, or medical and nursing students of any discipline
Physicians and nurses from the United States of America; the GLOBE Program is intended only for international physicians and nurses
Physicians and nurses from developing or underdeveloped countries not actively practicing pediatric oncology/hematology
National and international medical students may request more information and apply for clerkships at Harvard-affiliated hospitals through the Harvard Medical School Exchange Clerkship Program.
Other non-eligible applicants may visit the Boston Children's Hospital's International Health Services webpage to learn more and check their eligibility for their Observership Program.
Language
Verbal and written English proficiency is mandatory for participation in the GLOBE Program. Proof of language proficiency, medical terminology, and an online interview (e.g., Skype) are required. It is expected that content in the GLOBE application reflects the applicant's own work and independent critical thinking. If pre-selected, applicants are required to conduct the online interview independently without any form of external assistance (for example, online translation, translator, dictionary, etc.).
Visa
All international observers, who are not permanent residents or citizens of the U.S., must be in the U.S. on a tourist visa. Our program does not sponsor anyone for the sole purpose of participating in the GLOBE Program or provide advice regarding visa status or requirements, which are determined by the U.S. State Department. We are able to provide a letter of acceptance to the GLOBE Program to help with the visa application process. Please note we do not assist or sponsor any part of the immigration process. For any questions or additional information about visas, please visit Travel.State.Gov.
Application Process
Applicants submit the GLOBE application online according to the submission deadline
The GHI Selection Committee reviews all eligible applications
The GHI Selection Committee selects semi-finalists and invites them to participate in an online interview via Skype, Webex, Zoom, or other platform
The GHI Selection Committee finalizes decisions and sends letters of acceptance to accepted applicants. The GHI Selection Committee informs all applicants about their application status.
Accepted GLOBE Scholars start the onboarding and clearance process and travel preparations for their GLOBE rotation
Accepted GLOBE Scholars start their GLOBE rotation
Scholarship
We offer scholarships to eligible accepted GLOBE Scholars from low- and middle-income countries (as defined by the World Bank Classification System) who present a strong application and demonstrate financial hardship. The scholarship covers roundtrip airfare to/from Boston, a weekly stipend of $600, institutional fees, program administration fees, training costs, supplies, and other observership costs. GLOBE Scholars receive a check for their weekly stipend upon arrival and are responsible for any costs and activities associated with processing the check.
Local Accommodations and Living
GLOBE Scholars are responsible for making arrangements for all personal, travel, lodging, and transportation activities that result from participation to the GLOBE Program, such as finding housing, arranging local transportation, and other local living considerations. We provide a list of housing resources collected from past participants, but the list serves only as a reference and is neither exclusive nor exhaustive.
Onboarding and Clearance
All GLOBE Scholars are responsible for communicating directly with Human Resources and Occupational Health Services at both Dana-Farber Cancer Institute and Boston Children's Hospital, complying with all screening requirements at both institutions, and receiving clearance from both institutions at least one month before their start date. GLOBE participants must receive the appropriate immunizations prior to entering the United States.
Timeframe and Deadlines
The GLOBE Program has a typical duration of four to eight weeks (usually six weeks). The participant's stay cannot exceed eight weeks. The program typically runs twice a year – in the spring and fall – and start dates are announced on a yearly basis. Submission deadlines are announced on this webpage and vary for spring and fall rotations.
Application Forms
GLOBE 2022
Due to the ongoing pandemic, we are not accepting observers from other institutions until at least the Spring of 2022. We will update the site as more information becomes available.
In addition to the GLOBE Program, the GHI occasionally accepts ad-hoc, non-competing applications from observers who meet the above criteria and are self-funded through a scholarship, grant, fellowship, or other funding source.
The observership criteria, requirements, and process for non-GLOBE applicants are the same as GLOBE Scholars (see above). The cost of a typical six-week observership for non-GLOBE applicants varies, and it includes institutional fees, program administration costs, curriculum development, training costs, and materials, supplies, and other observership expenses. Applicants are responsible for all additional personal costs during the observership such as travel, housing, transportation, meals, living, and other expenses. To inquire about non-competing observership opportunities and details, please email us at globe@dfci.harvard.edu.