What We Do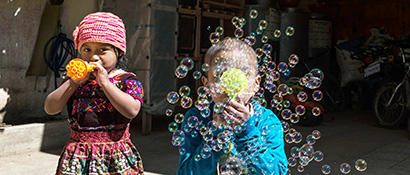 Pediatric cancer is curable when diagnosed early and treated appropriately, but the prognosis is dismal when these basic elements are lacking. The gap in survival between First and Third World countries will only widen in coming years. Due to current population growth combined with decreased infant mortality rates, the number of children with cancer worldwide will increase by about 30% by 2020 — making childhood cancer a major global health problem.
But the outlook is not hopeless. Through "twinning" partnerships and regional collaborative networks that maximize technology and share expertise, resources, and purchasing power for drug procurement — programs like the Global Health Initiative are helping to increase survival rates for children with cancer and blood disorders in low-resource settings. For instance, survival of children with acute lymphoblastic leukemia in countries in Central America with twinning programs and collaborative networks has risen from less than 20% to more than 60% over the last decade.
Learn more about our global health program areas below, or read about our efforts to develop specialized nursing support and psychosocial care in low- and mid-income countries.
Building strong programs to improve childhood survival
The "twinning" approach shares Dana-Farber/Boston Children's pioneering treatments, latest protocols, and deep experience with clinicians in developing nations. By exchanging knowledge and building local expertise, "twinning" seeks to improve childhood cancer and blood disorder survival rates worldwide.
As part of the Global Health Initiative's twinning program, Dana-Farber/Boston Children's has trained dozens of physicians and nurses, established standardized treatments, improved diagnosis, and created regional centers for excellence that are sharing best practices nationwide. Upon invitation from local Ministries of Health or directly from hospitals and foundations, the GHI offers its know-how and expertise to partners who are in the process of building a new pediatric hematology and oncology unit or expanding an existing one.
Global Health twinning programs:
Improve hospital infrastructure
Provide specialty training in pediatric oncology and blood disorders to physicians and nurses
Share the latest in evidence-based medicine
Enhance multidisciplinary care
Develop psychosocial support
Improve infection control
Establish regional research consortia and centers of excellence
Transfer, translate, exchange, and share knowledge
Training and preparing global leaders
Our global health training program educates a wide range of health care professionals involved in the treatment and prevention of childhood cancers and blood disorders. We strive to help partner organizations evolve into regional training centers and referral networks, helping spread expertise around the world. Initiatives include:
GLOBE Program: The Pediatric Global Oncology and Blood Disorders Education (GLOBE) Program hosts pediatricians from around the world. The GLOBE Program is an observership experience in which participants attend patient rounds and other clinical activities, as well as participate in teaching conferences under the supervision of a Dana-Farber/Boston Children's staff physician. During their stay, GLOBE Scholars are also expected to design or participate in a clinical, quality, or research project of their own under the mentorship of a Dana-Farber/Boston Children's staff physician. >>more
Nurse Education: Dana-Farber/Boston Children's GHI nurses regularly conduct web-based training sessions on patient safety, administration of chemotherapeutic agents, infection control, pain and palliative care, and other essential nursing issues as prioritized by our partners. In addition, nurse observers from around the world have the opportunity to participate in learning experience on nursing care.
Psychosocial Education: Dana-Farber/Boston Children's GHI psychologists and social workers meet online with our partners in Latin America and South-East Asia to discuss scenarios and offer advice on psychosocial concerns depending on the site's needs and the country's social support system.
Global Pediatric Oncology Fellowships


Egypt: The joint Children's Cancer Hospital Egypt 57357 and Dana-Farber/Boston Children's Pediatric Oncology Fellowship training program is an innovative, collaborative project designed to create a post-doctoral pediatric oncology training program for individuals from North Africa and the Middle East. GHI Faculty have already conducted multiple on-site training sessions in Cairo and Boston and in the spring 2015, GHI will host four pediatric oncology fellows for training for the first part of the education here in the United States.
Dominican Republic: The GHI is sponsoring a pediatrician from the Dominican Republic to complete a 3-year pediatric hematology-oncology fellowship at the National Pediatric Oncology Unit (UNOP) in Guatemala City, where she will be immersed in the complex socioeconomic and cultural challenges of delivering cancer care in resource-limited settings and be exposed to regional state-of-the-art protocols, infrastructure, and strategies that she can critically assess and aspire to implement upon return to Santiago.

Sickle Cell Disease Curriculum – Haiti: In Haiti, we have developed an illustration-based sickle cell disease curriculum for parents of newborns with sickle cell disease. This curriculum covers disease inheritance, clinical manifestations, and what families should do in the case of an emergency. We are training community health workers to run monthly group education sessions using this curriculum for patients and their parents.
Education and Capacity Building – Mexico: A unique partnership opportunity between Teletón, Hospital Infantil Teletón de Oncología (HITO) and the GHI brought 22 clinicians and nurses in Boston for three to six months in order to prepare them for the opening of the new pediatric oncology hospital in Querétaro, Mexico. The comprehensive education program ranged from subspecialty training to building quality assessment and improvement initiatives and development of standard operating procedures.
Cancer Curriculum and Training – Rwanda: We have presented a one-day curriculum of cancer awareness to almost every general physician in Rwanda. The curriculum focused on when to consider cancer in the diagnosis, dispelling stigma associated with cancer, and basics of cancer biology and therapy. In addition, we have developed a one-week curriculum for generalists treating patients at the cancer center in Rwanda and we have hosted generalists, pathology technicians, and palliative care physicians in Boston for 2-8-week training sessions as well.
Epidemiology – Central America: As sponsors to the St. Baldrick's Foundation International Scholar, the GHI has been providing mentorship to establish the first national pediatric oncology cancer registry in El Salvador and to build a childhood cancer epidemiology consortium in Central America by simultaneously training the Scholar in cancer epidemiology, cancer data management, and public health principles.
Training and Teaching Attending Experience – Ethiopia: The GHI partners with the Aslan Project to build a national pediatric cancer program at Black Lion Hospital in Addis Ababa, Ethiopia; as part of this project, two pediatric oncology fellows are trained on-site. The GHI assists in distance learning through web-based case discussions and seminars. In addition, members of the GHI have traveled to Addis Ababa for two-week teaching attending experiences at Black Lion. During their stay, teaching attendings participate in rounds, look for opportunities to provide teaching points to residents and fellows, go to clinic with the fellows in the afternoon, give three talks, and provide fellows with opportunities to sit down and talk about their research interests.
Undergraduate and Graduate Student Internships: The GHI collaborates with students from Harvard Medical School and Harvard School of Public Health on research projects and practice internships on health services research, quality management, clinical and epidemiology studies, needs assessment, and other global health areas.
Case Discussion: The GHI leads multiple online conference calls with partners in resource-limited settings to discuss difficult clinical cases, help design and provide oversight of protocols, and foster regional education and collaboration between sites.
One of the main limitations in advancing our understanding of childhood cancer is our limited knowledge of its causes. The differences in the incidence of cancer and blood disorders among children around the globe are very intriguing; it is possible that the interaction of environment, socioeconomic conditions, and ethnic factors influence the occurrence of cancer in some areas. In addition, a country's infrastructure and healthcare system shape the level, quality, and access to care available to children and their families. True advances in the care for children with cancer and blood disorders worldwide requires research into the factors driving the diseases.
The Global Health Initiative leads research into:
Cancer epidemiology
Sickle cell disease diagnosis
Health services
Quality improvements
New treatment approaches
Psychosocial support and education
Cancer outcomes
Access to care
Community health workers